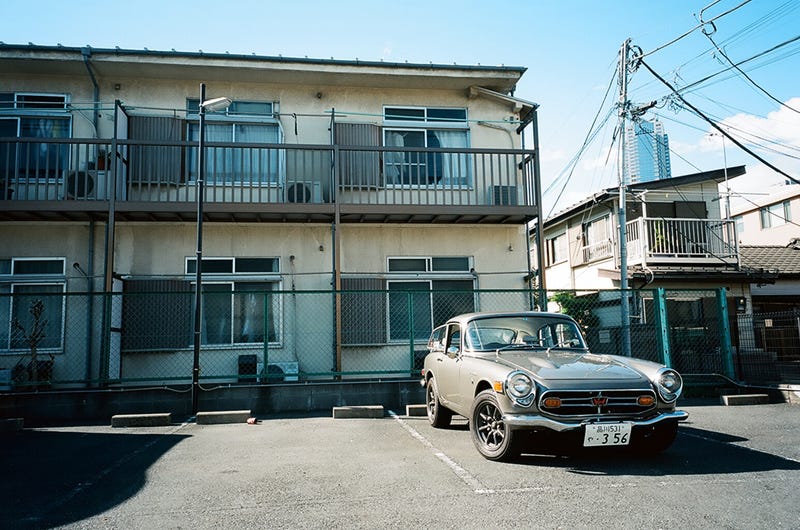 Just outside the North East boundary of Tokyo's Yamanote Line, is one of the megapolis' oldest undeveloped urban areas. As one of the last stations on the Tokyo Metro's Hibiya Line, Kita-Senju holds particular favor for the urban explorer, with many old buildings, local restaurants, and fascinating locals.
There is so much to explore, and while we've been back a few times a year over many years, we still seem to find new and interesting things to discover. Starting early one day with clear skies, we jumped in the S800 and made the short trip across town.
Meeting a companion at the local eki (station), we were startled by the near-open stainless exhaust of an NSX as it crackled past on over-run. While the NSX is supposedly a competent all-round machine – being often garnished with the statement, so nice you can take it shopping – it's never really sounded inspiring, lacking its originally intended multi-valved V8 - a change supposedly imposed by project cost concerns. This one though was an exception, with its glorious snarl curtailed unfortunately by a platoon of buses milling about the station.
As we left the station, we passed a local Subaru garage, one obviously servicing a more diverse range of cars, but still proudly wearing its 1970s' スバル sign.
Further into the suburb we came across the local public onsen, its tell-tale chimney and baths fronted by a façade perhaps dating from the Meiji period.
A local parking garage occupying a prime corner position, and with much of old Kita Senju slowly disappearing, this prime real estate is certain too to be redeveloped.
Into the smaller local streets though, we came upon the local garden supply yard, built beside an original house, it stocked the usual range of bonsai, fertilizer, shovels, and other stuff people who like flowers get dirty with.
Next to the Arakawa, a series of neo-Tokyo homes are slowly overtaking the older wooden buildings in the area. Height limited to three levels, many contain a single car park and then two levels of living. Stacked side-by-side the urban house renewal is a sight common across many residential areas of Tokyo.
Nearby though, one of the older post-war single level houses awaits demolition. Accompanying this one though is a very unloved Celica GT, still wearing its snow tires from its last winter run perhaps twenty years ago.
Likely still salvageable, we hoped one day it would be recovered, and not sent off for disposal like the rest of the property.
With the transfer of property sometime problematic in Japan, especially following the death of an owner, some buildings stand unoccupied for many years. However, as well as the Toyota, this house also had perhaps 10 vintage and near vintage motorcycles in various state of repair also tucked away behind the Celica, down the side of the house, on the front porch, and also we assumed throughout the inside of the house as well.
With disposal costs running to many millions of yen to clean a property for sale, this house was likely to remain filled with toaster-tanked motorcycles, and a Celica GT for many years to come. Or, at least until a collector of some sort was willing to assist in the clearing of the property for sale.
Many large apartment complexes along the banks of the Arakawa.
In some of the smaller streets though, the houses are unbelievably small, with this three-level home extending to the street with the width of no more than its front door.
The corner of one house still retaining its night-can alcove, merely supplemented with a dirty-water pipe when sewage was laid in the area perhaps fifty years earlier.
Some buildings, like this tea-room, dating back over 200 years and having survived the US bombing raids on Tokyo which destroyed much of a similar age.
Not quite as old, but of equal interest, this salon carried a cool sticker on its front door from the first international Expo held in Japan.
Parked next-door was an old-for-Japan, four-wheel drive Toyota Lite-Ace, its tray filled with fish-tank, making it a fresh fish delivery machine perhaps for a local restaurant.
Tucked in behind the shotengai (shopping street) was an otherwise unremarkable building, except perhaps for its mis-matched architecture. While to many it might look like a mess, and we are not sure it is was intentional or not, but to student of Japanese architecture it had perhaps started with a Meiji-style black wood house (mid-1800s), progressed to Taisho (early 1900s), and finished with some Showa (mid-1900s). Maybe even topped off with some Heisei (late 1900s).
Further down the Arakawa, typical Japanese housing ingenuity comes into play with the maximum use of space where two local streets join.
Parked down the street, a relatively rare Isuzu Vehicross from 198?. In excellent condition, it was a hardly driven example, covered in a thick layer of dust.
With much of Tokyo developed, redeveloped, and redeveloped again, it is rare to see an unpaved street, yet Kita-Senju has many. Most too small to drive down, but still vital in connecting whole rows of houses.
With many such lanes, and small roads in the area, and most houses not having the ability to park a car, communal use car-parks are used with number discipline by local drivers. Here, a 199x RX-7 sits waiting for its owner's next mountain drive.
Driving home, we enjoyed the light traffic and a few interesting road companions.
A minty 280SL.
The loudest thing I've heard in a long time in Tokyo was the sound of a McLaren MP12, being chased by a Lamborghini LP, being chased by a Honda S800. I would have been able to keep up, except I had to try and frame a photograph out the window…

Closer to home, with some light rain starting to fall a little Sunitora pulls away from the local Freshness Burger (great teriyaki chicken burgers).

Perhaps they had been visiting their sister parked down the street?
Two BMWs make a nice set, with garage mirrors to assist easy exit to the narrow street.
This Chevelle sees a regular outing, and though they cannot close the garage door on it, they do get it tucked in rather tight on the left side into an otherwise very small garage.
Further down the street a Sunbeam Tiger is the sole occupant of a thoroughly massive driveway.
Back to the JNCs, two examples of Nissan's wagon stable occupy the car spaces under a modern Tokyo style house.
Driving home, we spotted an occasional visitor to the local Toyopet showroom; a Toyota 2000GT MF10.
While introducing ourselves, and attempting to be modest about the rock-star parking out the front on the forecourt they insisted I park the S800, they explained it was OK to photograph the 2000GT, but to be careful, not to touch it, or to try and open the doors.
However, after finishing the intended roll of film, loading another and sitting on the floor to afford appropriate views of this luscious machine, the shacho came over and asked if I wanted to open the car.

'Off course!', I blurted out.

The details in the 2000GT are amazing, it was an easy thing to sit, stand, and crawl around such a great example.
As we pulled away from the dealership, looking wistfully at what was perhaps a million dollar car, we looked up to see the driver of another 2000GT (white, MF12) make brief eye contact as he drove off in the other direction.
While I contemplated making a speedy U-turn, and chasing him off down Yamate-dori, I figured the day had held enough interest, and slowly pulled away from the lights wondering if I will ever get bored in Tokyo…

All photographs from a Ricoh GR-1 on Kodak Ektar 100.